Back to Disney for a look at one of the all-time classic American Witches:  Maleficent.
I've been planning to do this review for sometime and the timing couldn't be more perfect with Disney releasing the trailer for the upcoming live-action film that features their iconic villain.
Apparently Disney is taking a similar approach as Gregory Maguire did with Wicked: The Life and Times of the Wicked Witch of the West.  The Studio will tell Maleficent's backstory.  How she went from innocence and purity to an evil sorceress – or fairy as it were.
Enough about a movie that has yet to be released – even if it stars the legendary Angelina Jolie.  Let's talk about the original.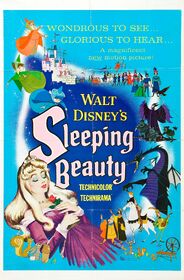 In 1959, Disney released Sleeping Beauty, only the third princess film to be made. The movie was meant to follow the success of the beloved Cinderella (1950) but it fell far short. In my own study on Disney Princess films, I noted:
Over the nine years of production, Sleeping Beauty's budget rapidly increased, eventually totaling 6 million dollars.  Walt claimed, "I sorta got trapped" and, later referred to the picture as "an expensive failure"(Thomas, 104).  In 1959, this was a very apt name.  The film only grossed 7.7 million dollars and was also a critical failure.  However, in subsequent years, the Disney company re-released the film to the theaters and, eventually to video.  From those re-releases, Sleeping Beauty has gone from being "less memorable" to a Disney classic, and Aurora was allowed her place alongside her two predecessors.
Because it was largely considered a failure, Disney didn't return to the princess film until 1989 with the release of The Little Mermaid.
Maleficent and the Wicked Queen are the only major witches in Disney's early period. Both of these characters stand as the two most iconic villains in the Disney canon.  Both of these witches are deeply terrifying but in very different ways.   Where the Wicked Queen is dark and sinister, Maleficent is dramatic and fierce.  The Wicked Queen becomes a ugly crone and Maleficent becomes a towering dragon.
What makes the two witches different?  Magic. The Wicked Queen's power comes from brews and herbs. Maleficient's comes from an internal power.  She is magic.  Her horns recall a mythology associated with the hunt, darkness and mysticism.  She carries a staff.  A raven rests on her shoulder and her outstretched arms recall a bat's wings, purple fire or even the raven itself.  Could she be the Morgaine in some form?
Maleficent embodies a dark beauty, a raw power and everything that the insecure, disenfranchised teenage girl isn't.  She commands her world.
(Okay she does it for evil purposes.  But come-on… she must have a back-story.)
Day #1: Oz: The Great and Powerful
Day #2: Haxan
Day #3: The Princess and the Frog
Day #4: City of the Dead
Day #5: Beautiful Creatures
Day #6: The Witches
Day #7: Wicked
Day #8: Bell Book & Candle
Day #9: American Horror Story: Coven
Day #10: Black Death (Guest Reviewer:  John W. Morehead)
Day #11: Witches of East End
Day #12: Nightmare Before Christmas
Day #13: Scooby Doo: The Witch's Ghost
Day #14: Hocus Pocus
Day #15: The Wiz
Day #16: Monty Python and the Holy Grail
Day #17: Wicker Man (Guest Reviewer: Link)
Day #18: The Witches of Eastwick
Day #19: Bedknobs and Broomsticks
Day #20: Harry Potter and the 8 Movies
Day #21: So I Married a Witch
Day #22: The Mists of Avalon (Guest Reviewer: Crystal Blanton)